Cover the GAP When you Buy a Vehicle with a Loan.
March 21, 2014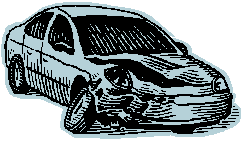 Bill just bought a brand new vehicle and he is taking his new ride on a weekend getaway. Friday night he and his wife pull onto State Route 30 looking forward to a quick retreat from Wooster. Bill glances down at the radio and turns the dial to a jazzy tune. As he looks back up, BAM! A deer slams into his new BMW pulverizing the front end of his new toy.
Bill has full coverage on his vehicle and roadside rescue; however he failed to add a very important coverage to his policy.
Bill's new vehicle is totaled, and the insurance company pays cash value and takes the wrecked car off his hands. What he doesn't know is that since the time he drove the vehicle off the lot, it has lost close to 20% of its value. This now becomes a problem for Bill, because he took out a loan to pay for his new car, and the cash value of the vehicle is 20% less than what he still owes on the loan.
Bill will unfortunately be left making payments on the balance of the loan left after his insurance pays the cash value.
If we were Bill's agent, we would have suggested to him at the time he purchased the BMW that he needs to add GAP coverage (also known as auto loan lease coverage) to his policy. This coverage pays for the difference between the unpaid amount due on the loan/lease and the actual cash value for the auto in the event of a total loss to his car.
Don't get stuck paying for a loan on a vehicle you don't even have, get GAP coverage.
Blog Archive
Related Topics
« Back to Blog
Follow HancockIns
Getting Started
We will contact you in a day to understand your needs, then send one quote comparing your best options from multiple companies.



Partners with companies featured on: